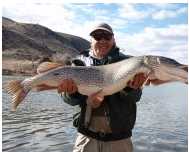 (Fly-rod Pike by Toston.)
John Foster fly-fishes over two hundred days a year, through thick and rain, even snow won't stop his constant craving to be a greater part of the rivers in Montana. He is best known for his wooly bugger technique (the 'Foster twitch' as he calls it) has been known to catch more then seventy fish in one day. Living in Bozeman for over thirty years has allowed John to discover new untapped fishing territory; be it from an old farmer friend or a busy highway bridge, he knows where the fish are, and the fishermen are not.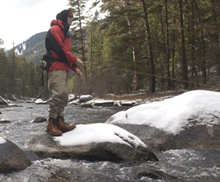 John Clay Foster is John's middle son, who has a creative degree in English from the University of Montana. In fact he is writing this right now. Drowned three times, once rescued by his mother two months pregnant. He enjoys comfort in small things, green tiles in the shower, fishing alone, broken windows of old homes. If he could be any tree, it would be a pine or some giant spruce….. Sometimes he catches more fish then his father.
If you enjoy what we are doing, let us know by leaving a comment.
Have fun.